Trail Stewardship
Impact of 2022 Cedar Creek Fire on Waldo Course
We are stewards of the trails we use on the course.  Since 2002, volunteers associated with the race have been clearing blowdown from most of the trails on the course in both the Middle Fork District of the Willamette National Forest and the Bend/Ft Rock District of the Deschutes National Forest.  Since all the trails we use in the race are outside of wilderness areas, we can use chainsaws to clear the blowdown until fire danger is too high.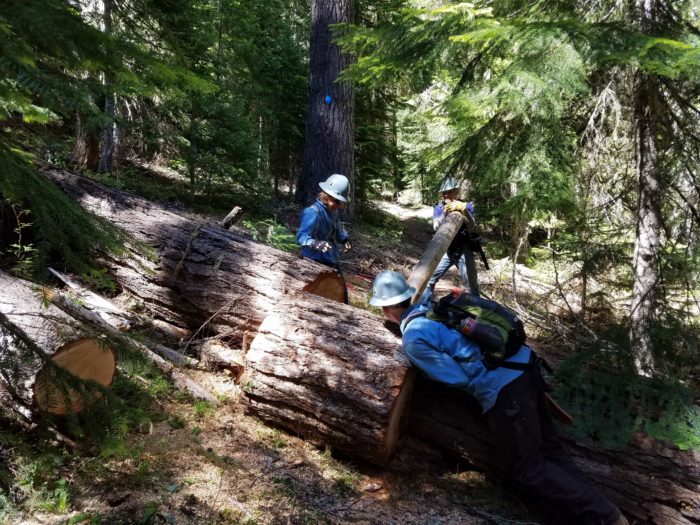 We don't just do trail work on the Waldo trails From 2009-2011, Craig was the steward of 9.3 miles of the Pacific Crest Trail north of Irish and Taylor Lakes in the Three Sisters Wilderness.  In wilderness areas chainsaws are not allowed so we got plenty of time on the misery whip.  From 2011 to 2014, he was the steward of 16 miles of the PCT from Willamette Pass to Charlton Lake. Since 2015 Ed Willson has taken on the responsibility. Being steward of the PCT means being responsible for not just clearing the blowdown but also assessing tread and drainage issues and ensuring resources are allocated to address any problems.  This is done through Pacific Crest Trail Association, a non-profit group that maintains the whole 2600 miles of the PCT from Mexico to Canada.
What this means for you, a trail runner, is plenty of opportunities to help.  We have not and never will require trail work from our runners, but we do provide the leadership and opportunities for you.  Most of the work we do on the trails is squeezed into July – after the snow melt, but before the fire season shuts down chainsaw use.   Sometimes we'll do special projects like the Skyline bridges which require lots of people power. We do have a three day campout in July that is dependent on snow pack.  Stay tuned for details.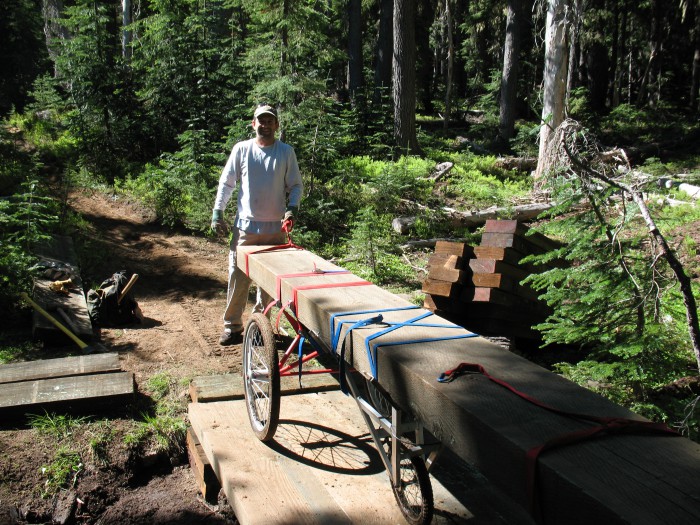 Before then, each spring there are a couple of opportunities to take classes about trail building, first aid, etc. or to get re-certified in chainsaw or crosscut saw.  These are offered for free through a combination of the Cascades Volunteers and the PCTA.  The training weekends in mid May in Westfir and beginning of June near Sisters. Registration usually opens on March 1 each year.
If you don't want to get your hands dirty but do want to help our trail work efforts, you can make a tax-deductible donation to Waldo Ultras, a 501(c)(3) organization dedicated in part to trail stewardship, and we'll use your donation to buy new tools or support our trail work weekend.  Thanks.
References: